February 05, 2020
ITV & Emmerdale Wow Leeds Pride with Drytac SpotOn
The Leeds Pride parade featured an open-top double-decker bus wrapped for the occasion by the team behind Emmerdale's on-screen graphics – using Drytac® easily removable graphics materials.
The Scenic Design Department within the Yorkshire-based soap, part of ITV Studios, installed a new Roland TrueVIS VG2 printer/cutter in summer 2019. The device was bought from Sabur Digital, who also supplied a quantity of Drytac SpotOn for use with the new system. This 4 mil (100µ) high-quality, ink receptive printable vinyl is enhanced with Drytac's innovative 'dot pattern' adhesive that enables simple, bubble-free application and, crucially, easy and clean removal.
These features are ideally suited to the work done by the Emmerdale in-house graphics team, who work with both the Art Director and Production Director to design and produce all printed work that is seen on-screen – including sets, retail signage, advertising posters, vehicle graphics, menus and paperwork handled by the actors, and beer pumps in The Woolpack pub. This work has to be of high quality – it will be seen by millions of viewers – but completed quickly, and is typically very short term.
Ian Sykes, Graphic Artist at ITV Studios, explains that he visited Sign and Digital UK in April 2019 to see samples of suitable products.
"Our graphics may only be in place for a day – a week at most – and are often applied over existing signage or vehicle graphics that must remain intact after ours are removed," he explains. "We went to Sign UK in search of a low-tac and removable product, and several people recommended Drytac SpotOn. When we bought the new Roland printer it was an opportunity to try it out."
The ITV team's first project using SpotOn was not an on-screen display but the Emmerdale-sponsored Pride bus, which took to the streets of Leeds on August 4th 2019 in temperatures up to 28ºC. As this was a sightseeing bus hired for the event, its existing graphics had to remain undamaged after the temporary graphics – the LGBT+ rainbow flag with the Emmerdale and ITV logos – were removed afterwards.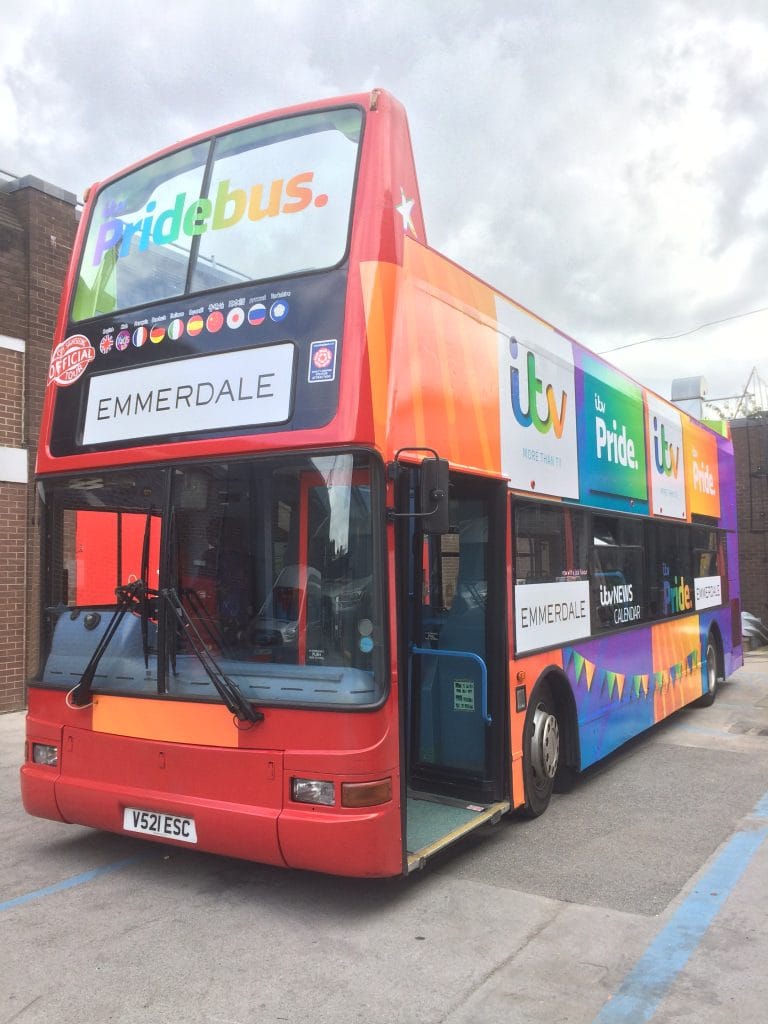 "We used 3m x 1,300mm sheets of Drytac SpotOn to cover virtually the entire bus with graphics," says Ian Sykes.
"The best thing was the SpotOn product left the existing graphics underneath intact."
To learn more about Sabur Inks, visit https://www.sublimationinks.com/.